Gesthús
The Best Kept Secret in Selfoss
Gesthús Selfoss is a family-run accommodation and campsite located in the heart of Selfoss where you will be in the center of the biggest town in the south, but still not to be seen. The high trees surrounding the place turn it into a green lagoon, full of quietness and peace. Now imagine you are lying in one of our hot tubs and you see the northern lights above your head.. miracles can happen here!
At Gesthús we offer two types of accommodation, two premium summerhouses and 22 rooms in bungalows, and a spacious RV park and campsite. The rooms in our bungalows have all private facilities and kitchenette. It´s the perfect choice for people who want simple accommodation with all their needs but without any luxury. For the ones who still want to have all the luxury, we offer fully equipped premium two-bedroom summerhouses with a private hot tub, kitchen, cozy living room with TV and a big terrace.
Our campsite and RV park are open all year round where guests have access to a separate service center with WC, hot showers, a big dining room and a kitchen.
It is the ideal base for exploring the South of Iceland as it is in a short driving distance from many of south Iceland´s most beautiful places.
Bungalows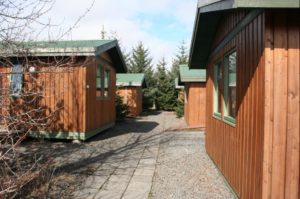 Summerhouses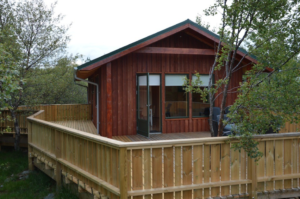 Campsite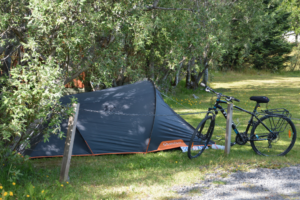 We serve breakfastbuffet in summer from May – September.  Our waffels alvays make a smile.   Guests can buy coffee, tea, soda and beer in our service center, open until 21:00 in summer and 19:00 in winter.
Traveling with a group? We offer lunch and dinner menu for groups. Please note that reservation in advance is required.
Nearby Attractions & Activites
Gesthús Selfoss is the ideal place to stay at when visiting the south of Iceland.
There are many amazing things to see and do in the area. We are located close to many of south Iceland's most famous attractions and activities.
Check out our favorite places and activities in Suðurland.
Weather and Aurora forecast
Travel safe and check out the weather and road conditions before you head out on the road.
And make sure you do not miss out on seeing the colorful Northern lights.
"Lovely cottage with nice beds. Decoration was nice and fitted the room type. Kitchen was fitted with everything necessary to cook a meal and clean up afterwards. We enjoyed our stay!"
"The location was great! The park was located in the middle of the city but gave the feeling like you were in the woods! The houses were tiny but contained the that was necessary. "