2 summerhouses & 22 bungalows
About Gesthús
Gesthús Selfoss is a family-run accommodation and campsite in the heart of Selfoss. The place is surrounded by high trees that give it privacy and quietness. Sometimes we say we are the best-kept secret of Selfoss.
We are proud of what we offer; 22 rooms in wooden bungalows and 2 luxury summerhouses. The bungalows are a great choice for 1 – 3 person traveling together around Iceland. Each bungalow has a private entrance, kitchenette and a WC with a shower. Our summerhouses are more luxurious with 2 bedrooms, private hot tub, fully equipped kitchen and a big terrace. And of course, there are plenty of enough parking spots for our guests for free. All guests in bungalows and summerhouses have free access to geothermal hot tubs, washing machine, dryer and WiFi.
Our campsite and RV park are one of the best in Iceland because of it's great facilities and quietness. All our campsite guests have access to our service center that features a WC, hot showers, a big dining room and a fully equipped kitchen. In addition, we offer free Wi-Fi connection in public areas and there are washing machines, dryers, and a shoe-dryer on-site for guests to use for a small additional fee. Campsite guests are also welcome to relax in our warm and nice hot tubs in the evening.
The RV park is great for guests preferring comfort in motor-homes, campers, and caravans. We offer electric hook-ups in 40 pitches, motor-home toilets can be emptied at a chemical disposal point and drinking water can be filled.
Have a question?
Talk to your hosts!
About Your Hosts
We are Lísa, Smári and Nonni, siblings that like each other so much that we decided to work together.
Lísa is the owner and got us, her two big brothers, to come and help run the business.  And as all good brothers do we said OK. We also have another sister that is a professor at the University of Iceland…. yes she was the smart one.
We love our job and we hope you will have a nice and memorable stay here at Gesthús Selfoss.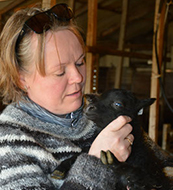 Your Host
Lísa
Lísa is considered the good soul of the house. For her nothing is impossible and whenever we have a large group over for a visit she whips up Icelandic specialties that treats both the palate and the heart of the guests. In her spare time, she enjoys spending time in the wonderful Icelandic nature, weaving wool or watching a good Scandinavian film.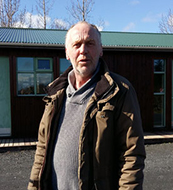 Your Host
Smári
Smári is glad to help you with everything you need.  He likes to play golf in his freetime and take care of his litle granddaughter.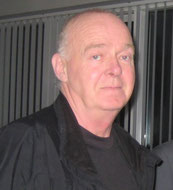 Your Host
Nonni
Nonni is the handyman.  If we have to fix something, Nonni does it.
If your car has a problem ask for Nonni.